3 Wavelengths ICE Point Hair Removal System
The ICE Point now offers trio clustered technology with the power of 755 nm, 810 nm, and 1064 nm.
(Trio Clustered Technology)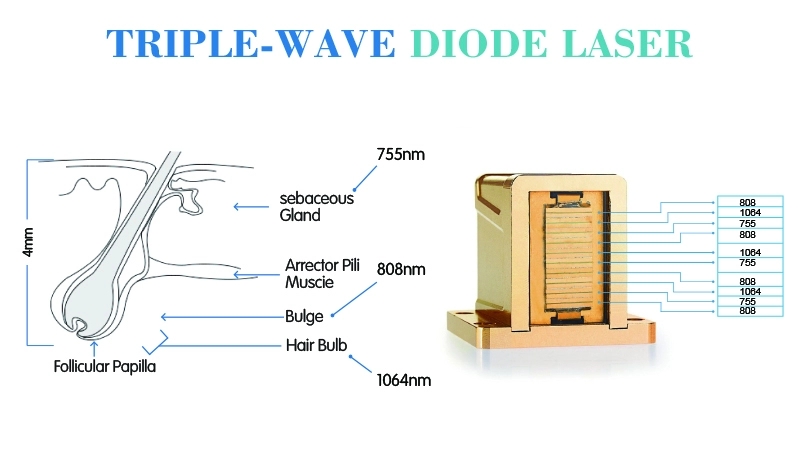 System Benefits
3 wavelengths covering the optical spectrum – 810 nm, 755 nm, and 1064nm
7 years of clinically proven effectiveness
Treats all skin types I-VI and tanned skin
Three modes – Hair Removal*, Super Hair Removal, and Laser Blanche
Intuitive and user friendly twelve inch color touch screen
Pre-set parameters
Easy to operate
No consumables
Fast, cool treatment for the patient
Light and ergonomic applicator for the operator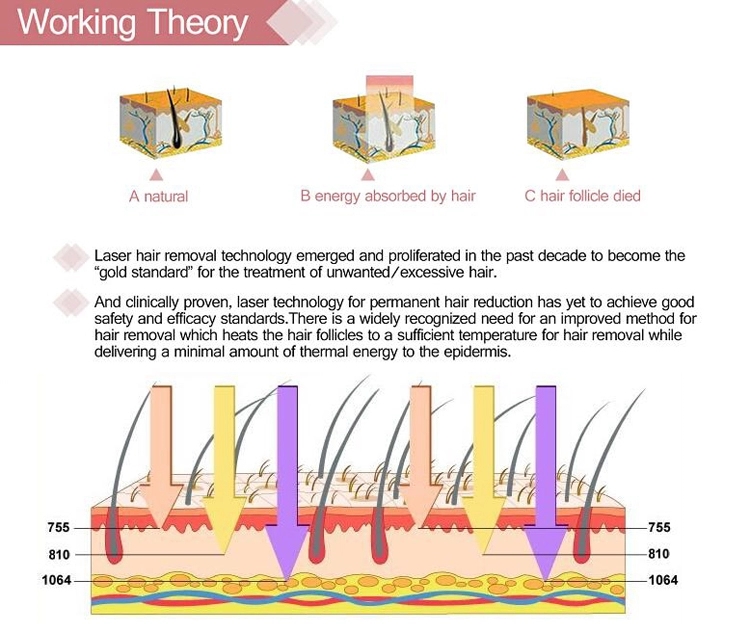 Product Introduction
1. Treat all skin types from white to dark skin, permanent laser hair removal.
2.Macro-channel laser diode stacks inside.
3. High power >120J/cm2 (600ms pulse width) guaranteed with test-report. (>120J can be delivered upon request.
4. Big pulse width range from 20ms up to 950ms.
5. High repetition rate from 1Hz up to 20Hz .
6. Small and sharp handle piece for easy holding and rotating.
7. Excellent sapphire cooling tip with -5~+5 degrees temperature, freezing cold.
8. Long life time limit of 40,000,000 shots (40J per shot).
9. Low cost for handle piece replacement.
10. One year warranty after delivery.
11. Custom design available (OEM and ODM).
Advantages
1. Macro-channel 755+808+1064 technology –Macro cooling system makes diode module working much safer.
2.Powerful cooling system- Semiconductor Thermal Management System:
1)the water temperature could decrease 11°C within 8 minutes;
2)the machine could work continuously for 24 hours a day without stop, more treatments permitted;
3) "constant temperature" working, prolong laser and machine life, save cost.
3. Imported high quality diode laser bars, Germany standard. (600W,800W,1200W,2000W)
4.New developed handpiece & connector, practical and elegant.
1)The imported tube is locked firmly to probe and connector, strong & durable;
2)USA CPC Water Connector & Germany Harting Electronic Connector.
3)Humanized bending design, maximum protect inner cable from vertical fold, and water flow smoothly for better cooling.
5.Imported water pump, no noise and larger water flow for better cooling, prolong laser life.
6.Automatical alarm system: once any problems happens, machine will stop working immediately. Protect the patient and machine first.
7. Sliding treatment way, spot size 12*12mm, remove hair fastly and effectively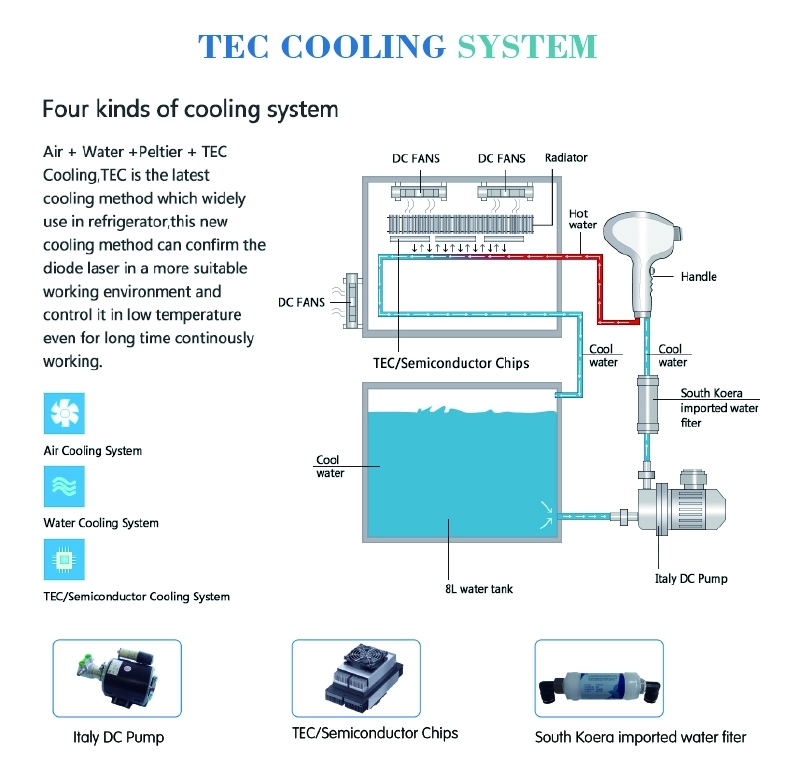 TEC(Thermo- electric cooling) cooling system the best stable cooling system a perfect macth for laser machines, protecting Laser bar and increasing the continuous working period of machine to 24 hours continuous work. Preventing the burning risks.