Korea Hydra Dermabrasion Aqua Peel Facial Machine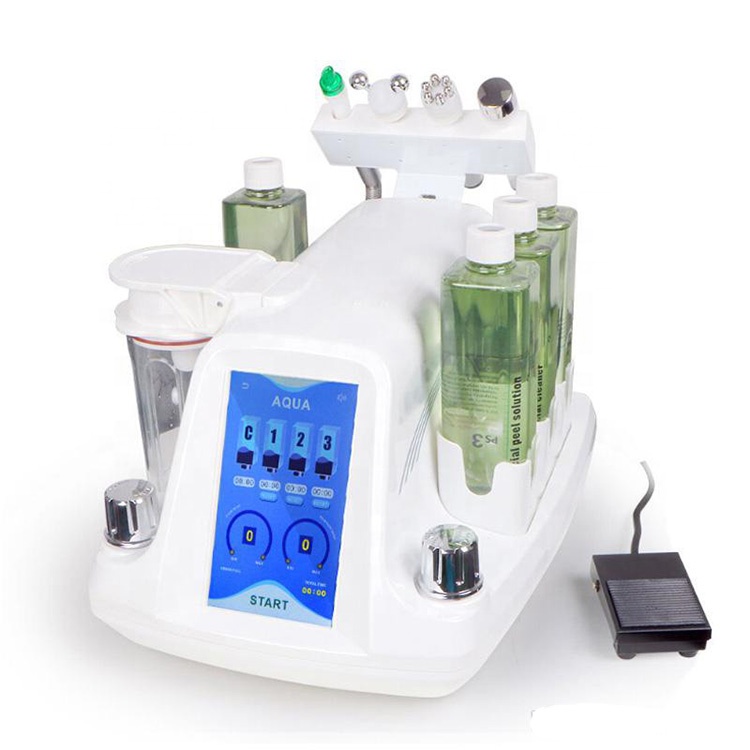 Application
1)Ultrasound head: promote microcirculation,skin rejuvenating
2)Multipolar RF:compact shaping, face lifting
3)Bio microcurrent:let jaw line tightened, Bio raise the overall tightening of facial skin
4)Hydrodermabrasion:facial cleansing, peeling, pore cleansing
5)Cold hammer :cold down skin after treamtent
6)Oxygen spray gun: skin rejuvenaiton
Advantage
1: Hydro-dermabrasion,applicable to regular or sensitive skin,Or skin with whelk,comedo,acne,etc.
2: Cleaning&washing:deep cleaning,clear skin statum rheum,minimally invasive scar,and clearing blackhead,remove deep skin dirt
3: Effective and direct moistening:supply sufficient water molecules to skin while cleaning
4: Used the skin care products to achieve a large variety of treatment aims like wrinkle/pigmentation removal,skin lightening and whitening
Hydro Microdermabrasion
The treatment is the newest advance in non-laser skin resurfacing. it is the only hydradermabrasion equipment combining cleansing, exfoliation, extraction, hydration and antioxidant protection simultaneously, resulting in clearer, more beautiful skin with no discomfort or downtime. The treatment is soothing, moisturizing, non-invasive and non-irritating
BIO sine wave work handle has calming,soothing and firming effect, shirnk pores,soothopain and reduce the swelling excrete by the process of metabolism, and the vessal and nurve will not be damaged.
RF handle
The deep heating of RF effects the electronics of tissue with the biological response of polarization electronic mobility by way of human tissues, resulting the electronics are formed as the molecules twist and crush against each other so that bio energy is produced, thereby bringing skin to warm in deep to stimulate the collagen produce contraction immediately, to stimulate the secretion of new collagen to fill the gap of losing collagen atrophy, and rearrange to rebuild skin soft frame, and ultimately firm up skin, remove wrinkle, restores the skin's elasticity and luster.
Ultrasonic handle
According to the treated purpose of the customer, with relevant extracts and nutrients, use the probe to inject them into the skin deep-seated, let them fully absorption, so get the best beauty effect.