Secret RF: Tighten and Rejuvenate Skin with Fractional RF (Radiofrequency) Microneedling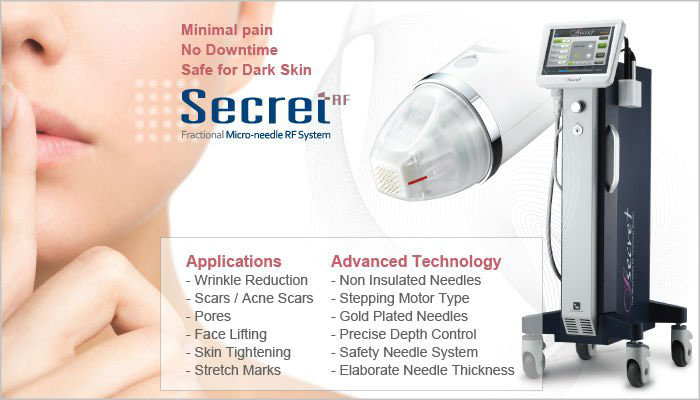 Secret RF Microneedling is the latest anti-aging technology that safely and effectively returns your skin to a more youthful and radiant state.
RF Microneedling is one of the most effective skin-tightening treatments to improve fine lines and wrinkles, especially around the eyes, mouth and cheeks. RF Microneedling also reduces pore size, acne scars and stretch marks.
How Does Secret RF Microneedling Work?
Secret RF Microneedling uses ultrafine needles that gently puncture your skin and deliver RF energy. As your skin heals from these wounds, your body's collagen production soars, resulting in firmer, more youthful-looking skin.
The Secret RF Microneedling device uses disposable 10 or 25 microscopic needle tips that attach to the end of the handpiece. The tips gently puncture the skin's surface at various predetermined depths.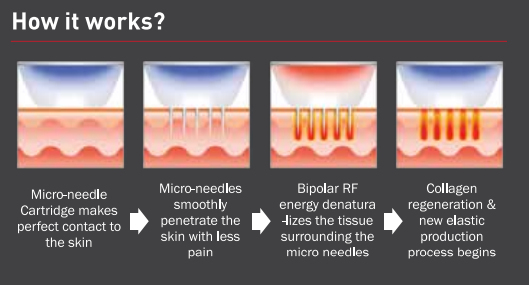 Secret RF Technology
Secret RF's unique technology and customized delivery of energy enables providers to tailor treatments for a variety of skin concerns on all skin types.

Customized Dermal Remodeling
Secret RF induces dermal remodeling by applying precisely controlled RF energy directly into various depths of skin – from 0.5-3.5 mm - with minimally invasive micro-needles to spare the epidermis and reduce patient downtime.

Adjustable Needle Depth
Secret RF micro-needling features adjustable needle penetration ranging from 0.5-3.5 mm offering customized dermal remodeling based on the area and the depth of the condition being treated.

Selectable Needle Type
The Secret RF micro-needling device provides a unique combination of non-insulated or semi-insulated needles that let you treat a wide range of applications for all skin types, including challenging skin.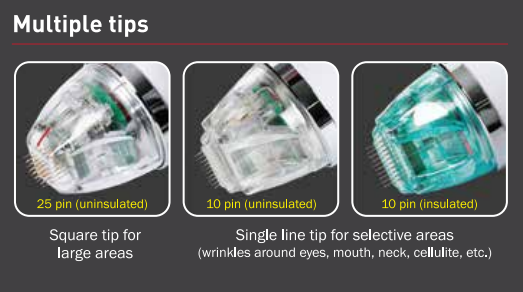 Applications
Fine lines/wrinkles ;Photoaging; Scarring/acne scars; Striae.