CO₂ Fractional laser with scanner has stable power and steady beam quality
IT IS FINE ARTIFICIAL LASER BEAM HOLES REACH TO DERMIS LAYER AND HELPS SKIN REGENERATE AND GIVES SKIN TIGHTENING, WHITENING & SCAR IMPROVEMENT.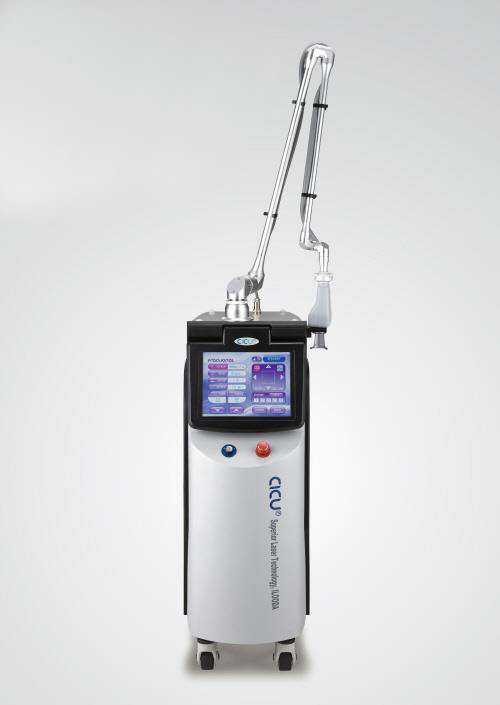 Treatment Principal:

Irradiate Laser beam to Skin surface partially.
The operation method which occurs an artificial heat damage to skin.
CICU utilizes RF metal sealed tube which of beam quality is stable from first to last shot.
Advantages & Features :
Selectable modes according to treatment objectivity (Fractional and normal mode can be selected)


Highly durable RF metal tube
Customized treatment per patient condition
Various shapes and Scanning pattern
Excessive heat accumulation can be reduced by adjusting discharging beam pattern through scanning pattern.

Distance
Beam to beam distance can be micro adjusted by 0.1mm upto 2.0mm.
2in1 Fractional & Normal Handpiece
Fractional Handpiece and normal Handpiece can be changed.
Treatment Area
Treatment area can be freely changed up to 20mm x 20mm (Fractional mode)

Application :
Steady and stable Laser Beam Quality
Saving time with fast scanning
More precise treatment with 0.1mm unit setting
Normal CO₂ mode available
Multi Shape & Scanning Pattern
User-Friendly Graphic Interface : Various information,
User Preset in One-Touch form