Exciplex 308nm – Excimer System For Dermatology
The exciplex 308nm has been designed with the latest technologies and knowledges about excimer devices.
It perfectly fits with the needs of modern dematology: it's light, powerful and affordable.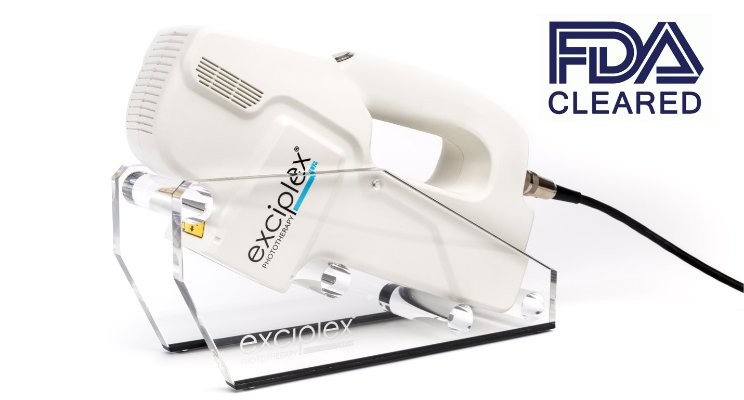 Indications:
Psoriasis is a common, chronic, disfiguring inflammatory and proliferative disorder of the skin. Psoriasis is not contagious or allergic in nature. It is a chronic autoimmune disease (appearance of patches) followed by periods of remission more or less prolonged. This disease develops in genetically susceptible individuals under the influence of environmental factors.
Vitiligo is an acquired pigmentary disorder characterized by white areas on the skin due to loss of functional melanocytes. The disease is manifested by the appearance of depigmented skin areas more or less important, especially on the face, feet, hands, joints and genitals. These depigmented areas come from the gradual disappearance of melanocytes
Atopic dermatitis is also known as atopic eczema or eczema. It is an chronic, inflammatory, relapsing, non-contagious and itchy skin disorder. It is often chronic in nature. In adults the hands and feet are most affected. The cause is believed to involve a number of factors including: genetics, immune system dysfunction, environmental exposures, and difficulties with the permeability of the skin and is characterized by xerosis and pruritus.
Alopecia areata is an autoimmune disease in which hair is lost from some or all areas of the body. The condition is thought to be a systemic autoimmune disorder in which the body attacks its own anagen hair follicles and suppresses or stops hair growth. T-cell lymphocytes cluster around affected follicles, causing inflammation and subsequent hair loss.
Mycosis Fungoides It is the most common form of cutaneous T-cell lymphoma which generally affects the skin, but may progress internally over time. Rash, tumors, skin lesions, and itchy skin are few symptoms of this condition. It is believed that the abnormal development of lymphocytes give rise to cancerous cells leading to the formation of this condition.
Technology :
Exciplex 308nm is a mix of the best excimer devices:
3x More powerful than existing excimer lamps
Smallest excimer device
With the same clinical efficacy (it's also an excimer!)
6 different spot sizes


Advantage:
Powerful :Fluence of 100 mW/cm2 and total power of 2500 mW resulting in fast treatment.Vitiligo shot: 1 to 3
seconds;Psoriasis shot 2 to 6 s
Easy to use :Touch screen with only one parameter: The dose
Versatile :Treatment of several dermatological indications: Vitiligo, Psoriasis Atopic dermatitis, Alopecia Areata, Mycosis fungoides,Treatments are painless.
Precise : Light is delivered to the lesion with high precision thanks to reduction tips allowing a spot size range from 1 cm2 up to 25 cm
Cost effective : Long Bulb lifetime (warranty of 3 years unlimited use) No consumables !
Handheld & Transportable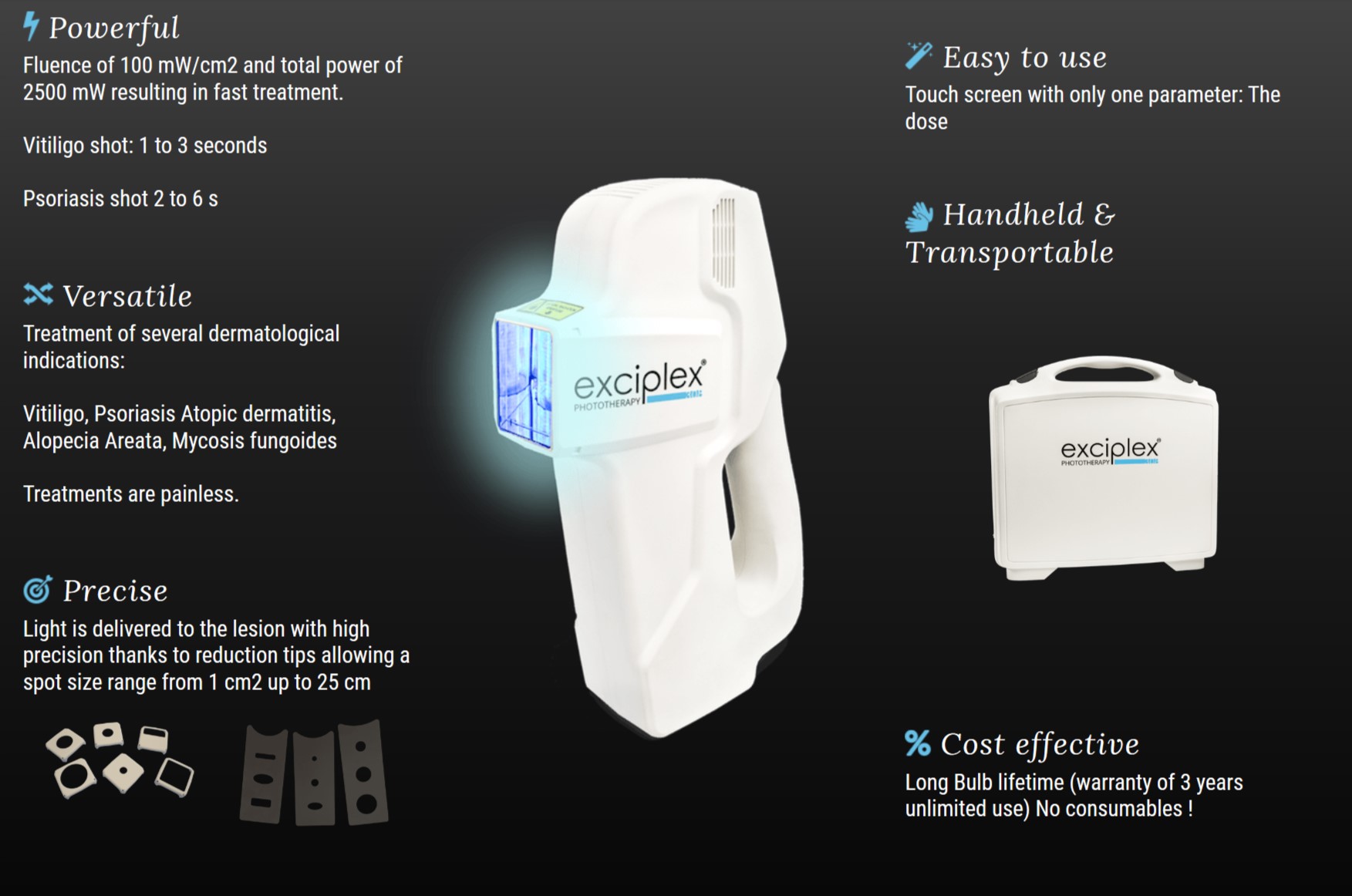 Designed to perfectly fit with dermatologists needs:
No running cost
No heating time
Transportable
Reliable