TRIO CLUSTERED DIODE TECHNOLOGY:
AS AN INTEGRATED SOLUTION, SOPRANO ICE PLATINUM COMBINES THE BENEFITS OF ALL 3 WAVELENGTHS, ACHIEVING EXCELLENT RESULTS TO ANY MONO-WAVELENGTH APPROACH ON ITS OWN.
Soprano ICE Platinum offers the synergistic benefits ofthe 3 most effective wavelengths for hair removal, each targeting different structures within the hair follicle. The 3 main anatomical targets include the Bulge, Bulb and Papilla.
ALEX 755NM WAVELENGTH
For the widest range of hair types and color.
The Alexandrite wavelength offers more powerful energy absorption by the melanin chromophore,
making it ideal for the widest range of hair types and color- especially light-colored and thin hair. With more superficial penetration, the 755nm wavelength targets the Bulge of the hair follicle and is especially effective for superficially embedded hair in areas such as the eyebrows and upper lip.
SPEED 810NM WAVELENGTH
Half the treatment time.
The classic wavelength in laser hair removal, the 810nm wavelength,offers deep penetration of the hair follicle with high average power, a high repetition rate and a large 2cm spot size for fast treatment. The 810nm has a moderate melanin absorption level making it safe for darker skin types. Its deep penetration capabilities target the Bulge and Bulb of the hair follicle while moderate tissue depth penetration makes it ideal for treating the arms, legs, cheeks and beard.
YAG 1064NM WAVELENGTH
Specialized for darker skin types.
The YAG 1064 wavelength is characterized by lower melanin absorption, making it a focused solution for darker skin types.At the same time, the 1064nm offers the deepest penetration of the hair follicle, allowing it
to target the Bulb and Papilla, as well as treat deeply embedded hair in areas such as the scalp, arm pits and pubic areas. With higher water absorption generating a higher temperature, the incorporation of the
1064nm wavelength increases the thermal profile of the overall laser treatment for most effective hair removal.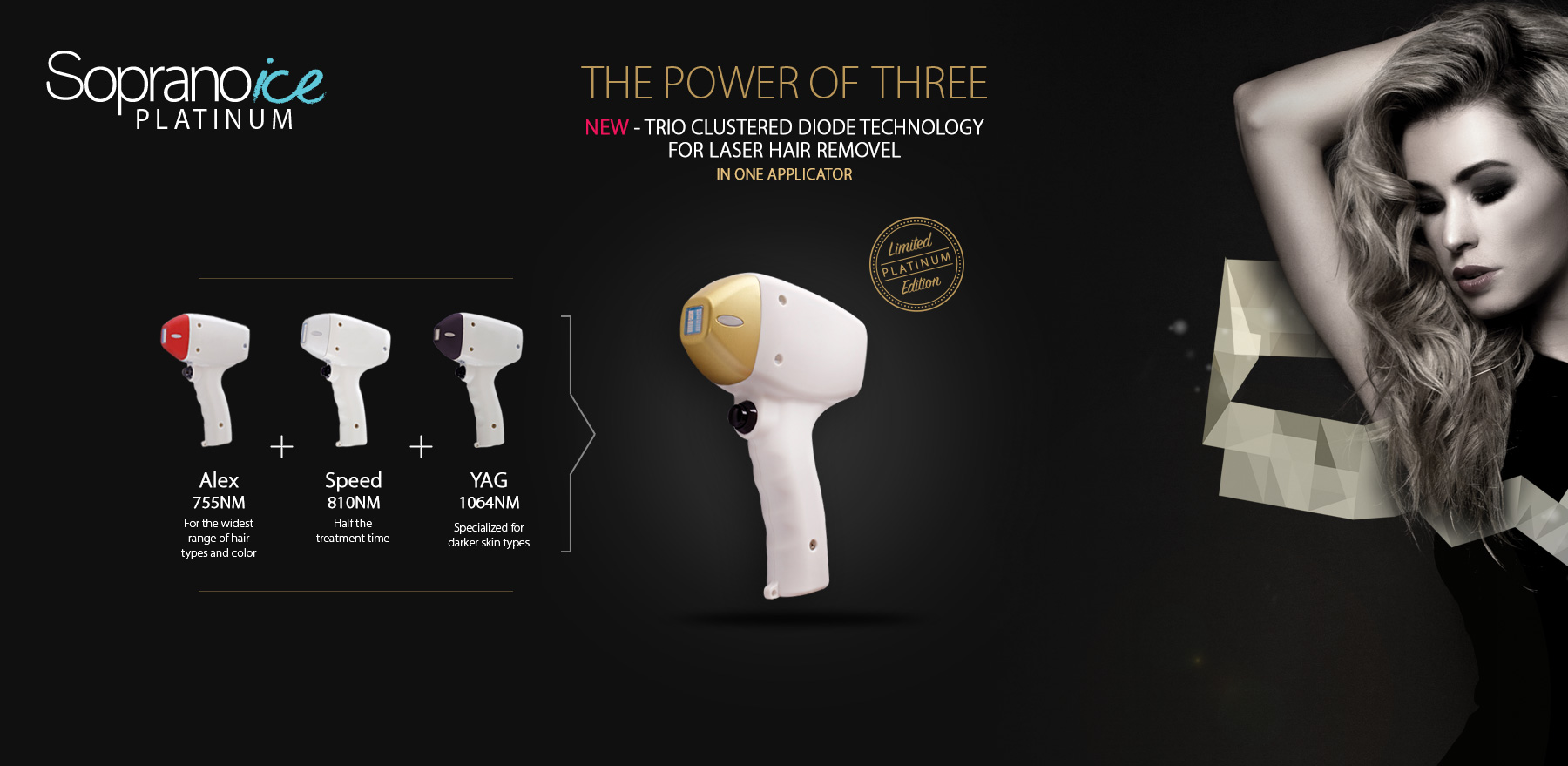 APPLICATIONS:
- A virtually painless experience for the patient
- Treatment possible for every skin type, or patients who often come into contact with the sun
- Further treatment in the summer is possible
- Proven more effective treatment than the standard methods (by gradual construction, more net energy in the hair follicle).
HANDLEPIECE:
A,100% imported premium USA lasertel laser bars Contact--type sapphire cooling system.
B,there are 10-16 laser bars , the maximum power : 1200 watt. 2000 watt for your choice.
C,We use USA Lasertel Laser Modules . High quality and Long life 40,000,000 shots with stable energy which can be used for at least 6500 person's armpit hair removal treatment.
D,Professional sapphire for cooling with copper around to make sure skin fresh and comfortable Hand piece design accord with human body engineering standards.
E,Disposable Hygienic Tip:Treatment of Intimate area, A unique disposable tip for treatment of intimate areas (10 units per package)
F,Facial TIP:Reaching the hard to reach, The unique Facial TIP allows treatment of hard to reach areas, including the ears, nostrils and glabella.
Specifications: Diode, 810 nm, Spot Size 6 mm