ULTRAFORMER – Non-invasive Lifting, Tightening & Contouring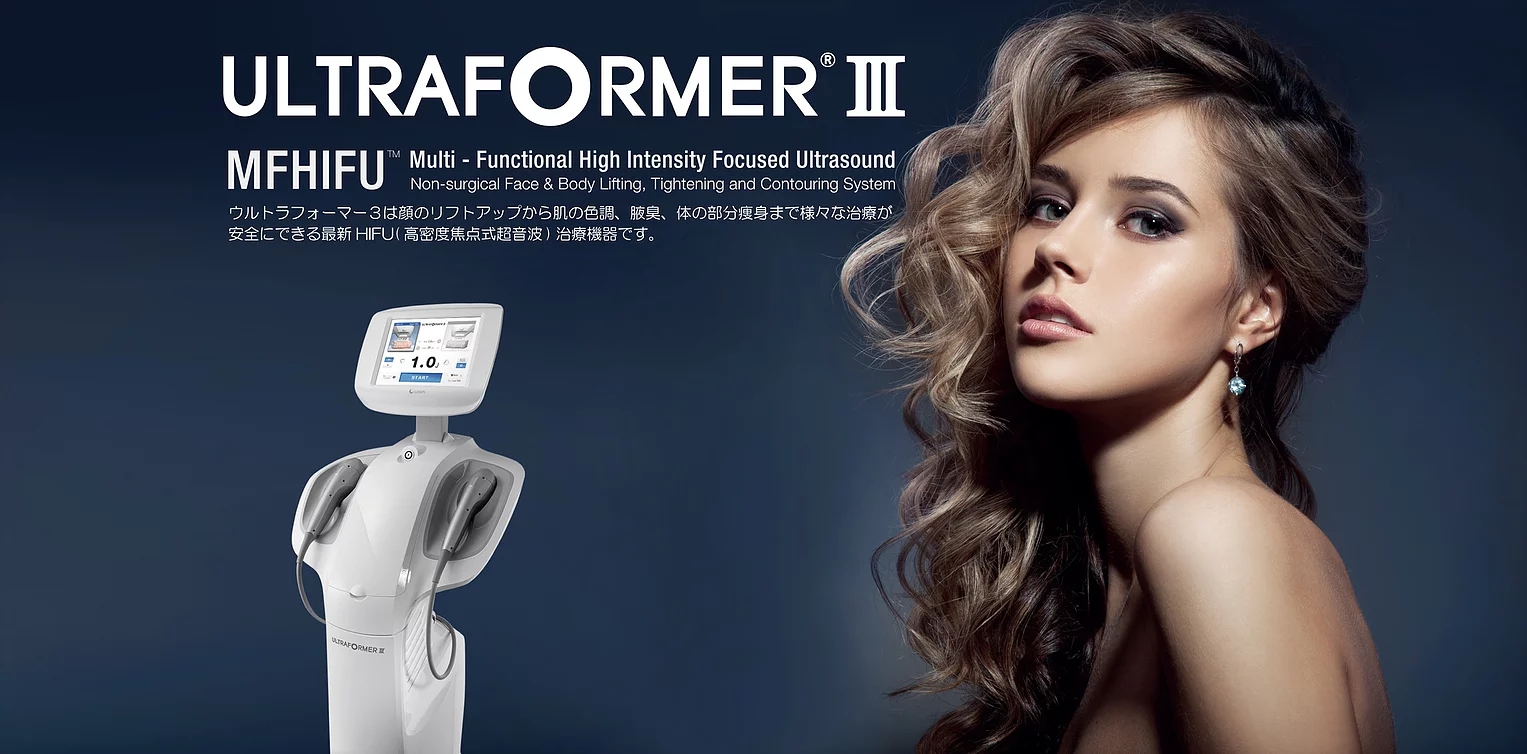 An innovative device, Ultraformer III offers non-invasive treatments for wrinkle reductions, body lifting and sagging skin. A highly customizable platform, this Micro & Macro Focused Ultrasound
(MMFU) device comes with multi-functional cartridges, which is combined with 1.5, 3.0, 4.5mm cartridges, which greatly improves the skin tightening effect. The 4 and 7MHz transducers induce
Micro coagulation in the skin, whereas the 1MHz transducer distributes Macro energy into the fat cells. This innovative use of transducers creates 8-fold more ultrasound energy than other devices.
Ultraformer III's unique cartridges which produce a higher peak powerful ultrasound energy, which ensure effective results. A prime multi-functional HIFU equipment with 7 different calibrated cartridge
depths.
The ULTRAFORMER uses precise, micro-focused ultrasound waves that focus on specifically targeting soft tissue layers in order to assist in growing new collagen providing you with a more toned, tighter and smoother appearance without the invasiveness or downtime that other treatments have. Using a unique elliptical transducer to deliver higher peak power with the market's only dual-hand piece system, the Ultraformer allows you to enjoy quicker treatments with almost zero downtime.
Indications
Skin rejuvenation and tightening

Non-invasive face and neck lifting

Non-invasive body contouring and lifting

Improvement of skin texture and tone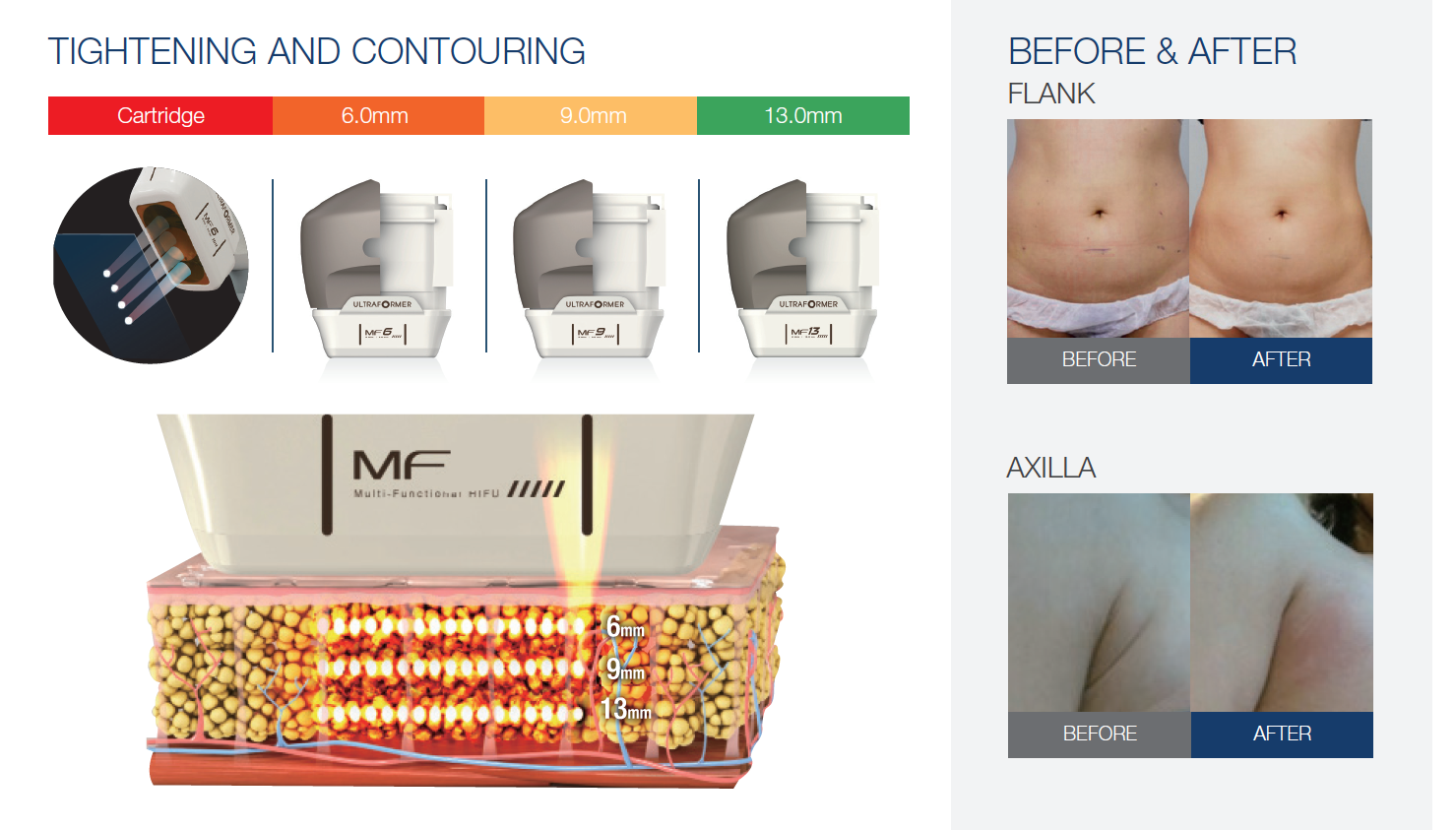 The ULTRAFORMER has an advanced design slim cartridge, allowing for more control and precision when targeting problem areas. It also has higher power than other devices on the market allowing for less treatment sessions while maintaining discomfort at a minimum. The energy emits heat to the target area between 65 and 75 degrees Celsius, which causes rejuvenation zones at 1.5mm, 3.0mm and 4.5mm depths while protecting the top-most epidermis layer. There can be a noticeable lift after only the first treatment and results can be seen improving up to six months thereafter, improving with each consecutive treatment.
A practical, more affordable approach for those not wanting to undergo surgery, the Ultraformer treatments can be completed in as little as 20 – 30 minutes. Completely non-invasive, it allows patients to go about their daily activity immediately after a treatment.
Technology
Distinctive technology
Outstanding clinical outcomes with State-of-the-Art technologies.
Face and body treatment
ULTRAFORMER III performs face lifting, body contouring and fine wrinkle removal procedures.

High peak power
Strong energy capacity with high peak power.
MMFU Technology
The newest paradigm of advanced technology – MMFU (Micro Macro Focused Ultrasound)
Multi-functional cartridges
Various multi-functional cartridges with 3 ultrasound frequencies and 5 depths to select from.
MMFU Technology
Delivering its energy to precisely targeted area only using ultra focused ultrasound. Coagulation on targeted area guarantees clinical outcomes.

MMFU – Micro & Macro Focused Ultrasound Technology Cartridges
Cartridges with MMFU technology provides 3 frequencies and 5 depths for precise treatments. Face lifting, body contouring are possible with various cartridges.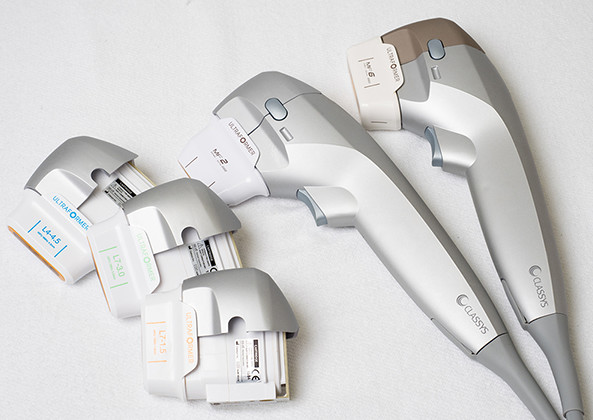 Micro Thermal Effect Using Micro Cartridges

MMFU Micro Cartridges for face lifting are 1.5mm, 3mm, and 4.5mm depth with 2 frequencies (4MHz & 7MHz) and its combination treatment gives synergetic effect.
Slim cartridges helps wide range of views in treatment area for easier operation

Face Lifting | Treatment Areas

Macro Thermal Effect Using Micro Cartridges

2 cartridges of 6mm and 9mm depths with 2 MHz frequency are designated for body contouring.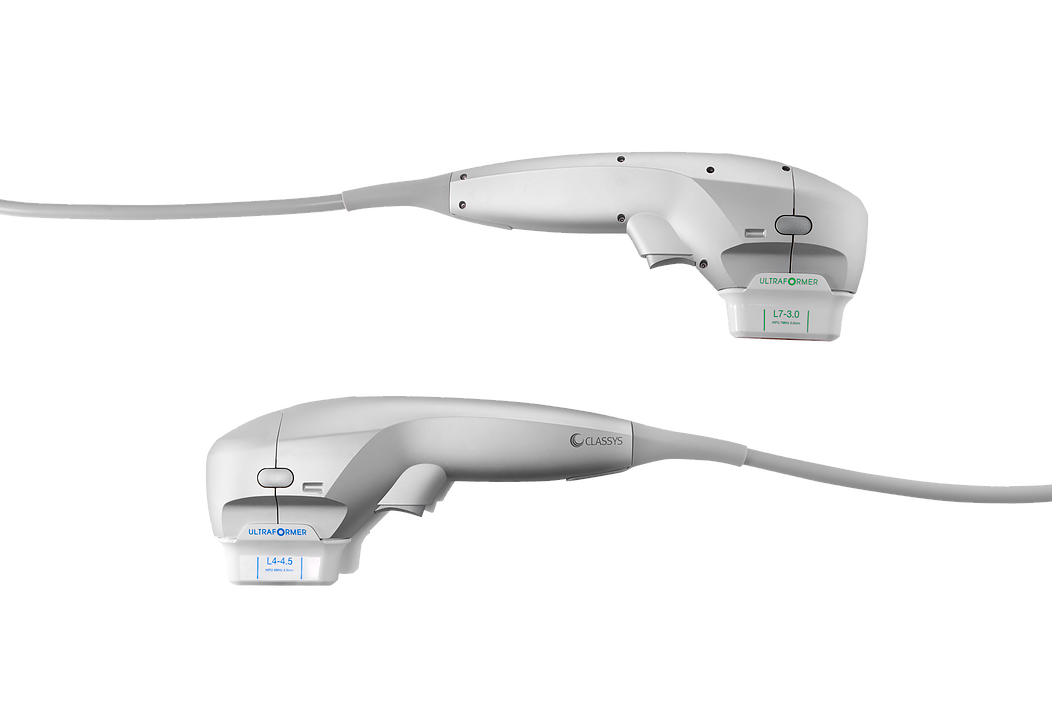 Body Contouring | Treatment Areas